SharePoint page as Dialog
Within SharePoint it is by default possible to open a list form in a dialog by just changing 1 setting on that particular list. This can be done by going to the settings of the list and choose for 'Advanced settings'. Here you find the option 'Dialogs' where you can change this.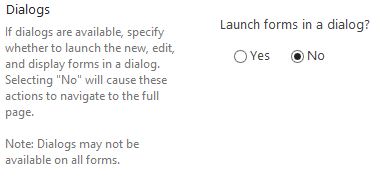 This is nice but sometimes you want that new form or some other page also in a dialog. That can be done with a little bit of JavaScript on the page where you want it.
As you can see with this example you can also open other pages and not only list forms. This page must be a webpart page and not a wiki page.