Correct sizing Shared Mailboxes
Today I saw a notification in the Office 365 Portal about the correct sizing of Shared Mailboxes.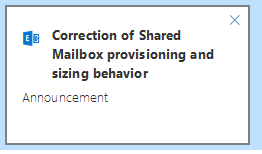 It seems that Microsoft is creating Shared and resource mailboxes with a max limit of 100GB. As the documentation states these mailboxes can only have a size of 50GB and when you need more space you need to assign an Exchange Plan 2 license to that mailbox to get 100GB of space for that mailbox. https://technet.microsoft.com/en-us/library/exchange-online-limits.aspx#StorageLimits This change of the size limit will be applied on July 30th, 2018. See this roadmap item for more details https://products.office.com/nl-NL/business/office-365-roadmap?filters=&featureid=31391
This triggered me to check all the shared mailboxes of one of my customers.
I created a small script to get all the sizes of shared and resource mailboxes and place it in a CSV file to check what mailbox needs a license